Fast Food Chain Announces That Face Masks Are Now Mandatory
August 6, 2021
6 Comments
The McMask is baccckkk!
The food at McDonald's is horrible and I have not eaten in years and you could not pay me to do so either, but for some odd reason, people flock to this so-called eatery and stuff their faces with it.
The food that they serve is so high in fat, preservatives, and chemicals that it should be banned but it still stands. This is why their stance on the entire facemask situation is pretty much laughable.
The McDonald's corporation has announced earlier this week that masks are now mandatory in areas of high coronavirus transmission — regardless of their vaccination status.
This policy also goes for employees and consumers and again it just has me scratching my head.
The company said it was responding to guidance from the federal Centers for Disease Control and Prevention, which now recommends masks for everyone in high transmission areas, according to USA Today.
Here is more from Western Journal:
Areas of high transmission of the virus are determined by data published daily by the CDC. The data covers each county, which can sometimes lead to confusion if transmission rates differ widely among adjacent counties.
The map Tuesday showed high transmission areas (in red) covered most of the United States.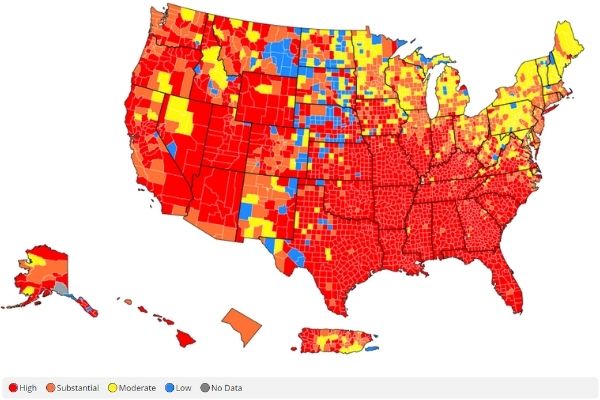 McDonald's was among the retailers that dropped mask requirements for vaccinated people in May.
The company said Monday that it has always required people who are not vaccinated to wear masks, although customers were not asked about their vaccination status.
"Any time cases rise, it creates added risk in our system," said Tiffanie Boyd, U.S. chief people officer of the company, according to Restaurant Business Online. "We're going back to masks in high-risk areas."
The action by McDonald's comes at a fluid time of rule-making as many major retailers — including Walmart, Target, Lowe's and Kohl's — are imposing a mask mandate on employees who work in areas of high virus transmission regardless of vaccination status, according to Forbes.
Starbucks has also imposed a mask mandate on workers in company-owned stores.
For now, those companies are only encouraging customers to wear masks.
Share your thoughts below!